Saudi Arabia Apparel Market Trends 2023- Global Industry Share, Emerging Trends, Growth Strategy, Future Opportunities and Revenue Report 2033: SPER Market Research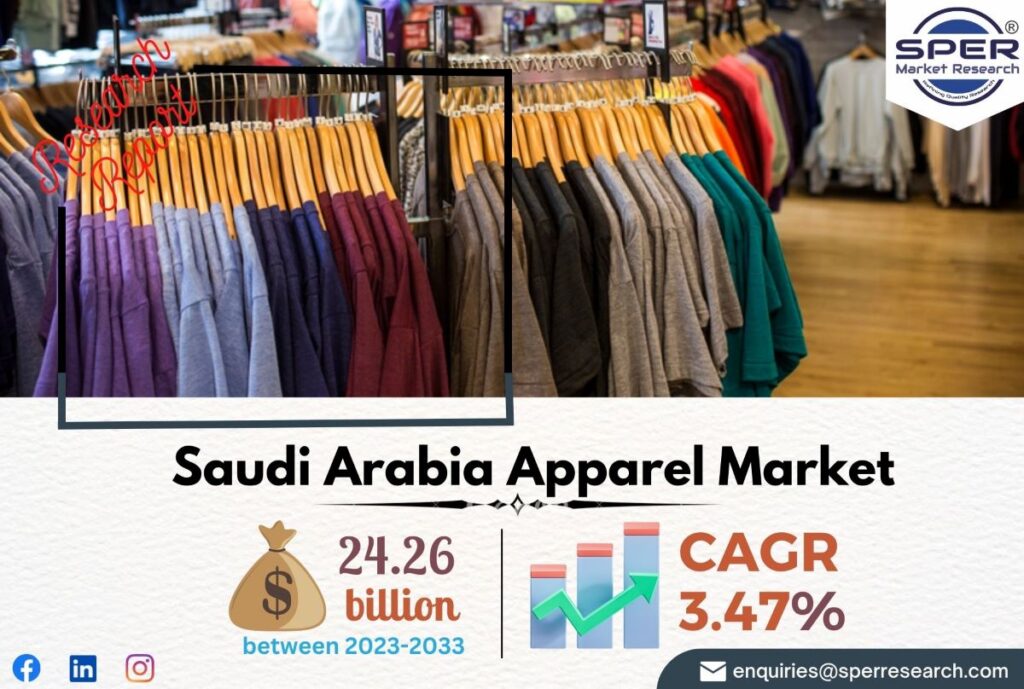 Apparel is a fundamental aspect of human culture, reflecting social, cultural, and economic trends. The apparel market encompasses diverse segments, including casual wear, formal wear, sportswear, children's wear, and specialized clothing for specific activities or professions. It is influenced by factors such as fashion trends, consumer demographics, lifestyle changes, and technological advancements. The market is highly competitive, driven by consumer demand and evolving fashion tastes. 
According to SPER Market Research, 'Saudi Arabia Apparel Market Size- By Category- Regional Outlook, Competitive Strategies and Segment Forecast to 2033' state that the Saudi Arabia Apparel Market is predicted to reach USD 24.26 billion by 2033 with a CAGR of 3.47%.  
The Saudi Arabian government has implemented various economic reforms and initiatives, such as Vision 2030, aimed at diversifying the economy and reducing dependence on oil. These initiatives include promoting the growth of the retail sector, attracting foreign investments, and developing the entertainment and tourism industry, all of which contribute to the growth of the apparel market. 
Increasing fashion awareness and influencer culture is one of the key factors driving the market. With the rise of social media and influencer marketing, Saudi consumers are becoming more aware of global fashion trends. Social media platforms and influencers play a crucial role in promoting and influencing consumer choices, driving demand for fashionable apparel items. 
The main challenge facing by the apparel market is the economic dependency and volatility. The Saudi Arabian economy is heavily dependent on oil exports, which makes it vulnerable to fluctuations in global oil prices. Economic volatility can impact consumer spending patterns, leading to uncertainty in the apparel market. Retailers must be prepared to adapt to changing economic conditions and adjust their strategies accordingly. While e-commerce is growing rapidly in Saudi Arabia, there are still challenges related to logistics, payment options, and customer trust. Ensuring efficient and reliable delivery, addressing security concerns, and building consumer confidence in online transactions are ongoing challenges that need to be addressed for sustained growth in the e-commerce segment of the apparel market. 
Request For Free Sample Report @ https://www.sperresearch.com/report-store/saudi-arabia-apparel-market.aspx?sample=1
Impact of COVID-19 on Saudi Arabia Apparel Market
The impact of COVID-19 on apparel market is that the retailers in Saudi Arabia had to adapt their marketing and promotional strategies to the changing circumstances. With reduced in-store traffic, businesses focused on digital marketing, social media campaigns, and online promotions to reach and engage with customers. Virtual fashion shows and live streaming events emerged as alternatives to traditional fashion events. As vaccination efforts progress and restrictions ease, the apparel market in Saudi Arabia is showing signs of recovery. Retailers are adapting to the evolving consumer preferences, leveraging online channels, and implementing omni-channel strategies.  
Saudi Arabia Apparel Market Key Players:
Furthermore, Riyadh has a significant influence on the apparel market. It has a diverse population and is known for its cosmopolitan lifestyle. Riyadh is home to numerous shopping malls, fashion boutiques, and international fashion brands. The city's strong purchasing power and fashion-forward consumer base make it a key market for high-end and luxury apparel brands. In addition, some of the market key players are Adidas, AlShiaka, H&M, Levi's, Max, Others. 
Saudi Arabia Apparel Market Segmentation:
The SPER Market Research report seeks to give market dynamics, demand, and supply forecasts for the years up to 2033. This report contains statistics on product type segment growth estimates and forecasts.
By Category: Based on Category, Saudi Arabia Apparel Market is segmented as; Clothing (Childrenswear, Menswear, Womenswear), Footwears (Children's Footwear, Men's Footwear, Women's Footwear), Accessories.
By Region: This report presents data pertaining to important regional segments, namely the Eastern Region, Northern Region, Southern Region, and Western Region.
This study also encompasses various drivers and restraining factors of this market for the forecast period. Various growth opportunities are also discussed in the report.
For More Information, refer to below link:-
Saudi Arabia Apparel Market Future Growth
Related Reports:
India Mixer, Juicer and Grinder Market Size- By Product Type, By Application, By Distribution Channel- Regional Outlook, Competitive Strategies and Segment Forecast to 2033
Germany Beauty Products Market Size- By Make-up Products, By Category, By Distribution Channel- Regional Outlook, Competitive Strategies and Segment Forecast to 2033
Follow Us –
LinkedIn | Instagram | Facebook | Twitter
Contact Us:
Sara Lopes, Business Consultant – U.S.A.
SPER Market Research
+1-347-460-2899